I've been hearing talk of another round of layoffs at the News Tribune for some time now, and it looks like it's about to happen.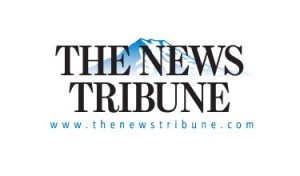 McClatchy has announced it will slash about 1,600 jobs across the 30 papers it owns. That's about 15% of the remaining workforce.
It seems clear the P-I (Hearst) is going to exist as a web-only paper, and I think the News Tribune is on its way to five or six days a week – possibly Wednesday through Sunday.
This of course also impacts the Olympian, the Puyallup Herald – which really can't be cut any more unless they cease production or go online only – and the Peninsula Gateway.
My intent hasn't been for this column to be so newspaper heavy – but the demise of newspapers is going to be the big media story for 2009-2010 – so it is what it is.
So far I haven't heard much bloodletting on the broadcast side, but TV news operations have always been skin-and-bones affairs. I hear Fisher is dying on the vine – and Belo is of course sucking canal water as a newspaper publisher. So we'll have to stay tuned.
I may be a blogger, but there's nothing good about any of this.