I did not know Eric – only that I always seemed to catch him on TV or radio whenever I came back home here to Seattle to visit during the 80s and 90s.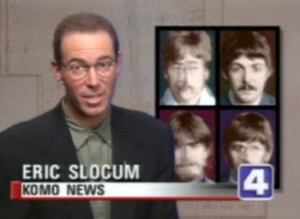 His friends remember him as a very decent human being – who sadly, according to what appear to be his posts on Facebook, struggled for years with severe depression. There is no word about a cause of death, but when the community loses a contributor – it doesn't really matter.
KOMO put out this release today:
"It is with great sadness that we've learned of the death of Eric Slocum, former KOMO 4 anchor/reporter and former KOMO Newsradio anchor.
Eric was a part of the KOMO-TV news team for 10 years and spent another six behind a KOMO Newsradio microphone.
He left KOMO Newsradio in 2008 to write a memoir and concentrate on the poems that he so loved. In 1996, Eric wrote a moving book of poems called "New Words", which was published with Fisher and Childrens' Hospital to help raise money for childrens' health care.
Eric's Facebook page is here: https://www.facebook.com/home.php?ref=home#!/daneric.slocum