Proving my credentials as a true broadcast nerd, while I'm dying to watch a bunch of pro golfers curse greens Stimping at 25, what I'm really interested in is seeing how the various broadcast outlets at the tournament handle the difficult lighting situations when it comes to their talent broadcasting from the event.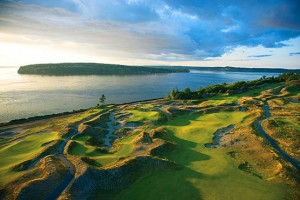 The money shots at Chambers Bay are looking generally West – i.e. out across the water and straight into the sun during the most exciting parts of the tournament – in the mid-to-late afternoon. That, when combined with the glare off the water and lots of hot sky and white sand traps behind the Westward shot can make for difficult times lighting the Joe Bucks of the world if their anchor positions favor the South and East side of the course.
The solution is to shade the talent, and then blast the living bejesus out of them with daylight balanced studio lights. It takes a ton of power, and a sturdy structure around the anchor positions to hold the shading and the fixtures since keeping them on floor stands is probably not an option in a high-traffic area.
So while most of us are used to seeing beautiful still shots of Chambers Bay shot in the late afternoon or evening facing South or East – or catching the brilliant blues and greens looking North and West in the morning – the broadcasters are going to be asked to go against nature's lighting scheme – shooting North and West during the day – and we'll see how well they, and the locals, do.
So if the people you know and love look a little funky at Chambers Bay – now you know why. And if they look great – you know somebody did their homework and got it right.
No, let's send it back out to Bob at the seventh.